Custom hotel gifts designed by Classic Legacy enable hotel and resort brands to stand out. Classic Legacy custom personalized gifts are created in the USA. Our luxury gifts include wine accessories, desk accessories, personal accessories, and jewelry. The best designs use your art, logo, or photographs.
Custom Hotel Gifts Buyers Portfolio
The SlideShare Presentation below is an example of the gifts currently in the Classic Legacy collection. Each gift buyer is given a presentation. It is important to see how custom gifts look with individual logos or art.

Custom Hotel Gifts For Wine Lovers
One of the specialties of Classic Legacy includes designing wine accessory gifts. The wine accessories include wine bottle stoppers, wine coolers, wine carriers, wine charms, and wine coasters. Many hotels and resorts feature their own wine and having accessories available with custom logos, photos, or art really enhances the gift selection. The photo below features Classic Legacy marble wine stoppers designed for the historical Hotel Del Coronado.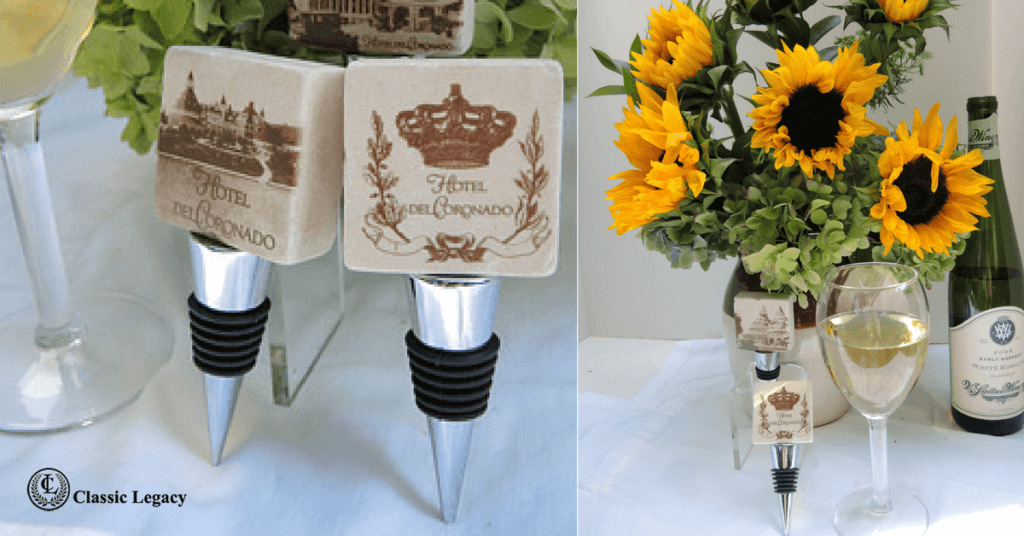 Custom Hotel Gifts Include Desktop Accessories
In our digital time, one way to stand out is to write a hand-written note! Classic Legacy luxury gifts are perfect desktop accessories for those that want to stand out by writing a note. Our desktop accessories include notepads, letter openers, paperweights, and photo frames. The gifts shown in the photo below are all designed for The Hotel Monteleone in New Orleans.
Custom Hotel Gifts Include Jewelry
The new Guest House Hotel in Memphis is part of Elvis Presley Enterprises. The gift shop in this luxury hotel knows that jewelry sells. Visitors want unique jewelry to remember their visit to Graceland in Memphis. Classic Legacy creates custom charms and medallions. All our enamel work is done by hand. This jewelry is made in the USA. Elvis was a very creative person and I think Classic Legacy custom jewelry reflects creativity. I learned so many things about Elvis when I designed jewelry and hotel gifts for Elvis Presley Enterprises.
Custom hotel gifts includes personalized jewelry. Below are more examples of custom logo charms, pewter charms, and three dimensional charms. All these charms and bracelets are hand-made in the USA in the Classic Legacy design studio. These designs represent logos for The Waldorf Astoria, The Hotel Del Coronado, and The Davenport Hotel.
Custom Hotel Gifts Include Personal Accessories
Custom hotel gifts that are for personal use include money clips, purse mirrors, key rings and cuff links. Hotel gift stores have found these gifts have great price points and that visitors love to bring home a gift that can be used and also brings to mind wonderful memories of their travel. The photo below features gifts that have been designed for The Broadmoor Hotel in Colorado.
Custom Hotel Gifts Are Handmade By Classic Legacy Team
The Classic Legacy team creates handmade charms and medallions used to design custom gifts for hotels and resorts. Your logo, photograph, or art can be used to create unique personalized gifts for resorts and hotels.
Custom Hotel Gifts Designed With Black/White Logo
Some of my favorite custom hotel gifts are designed using logos. I just need a high resolution jpeg image to begin designing custom gifts for your hotel or resort. Some of my favorites include these gifts designed for The Waldorf Astoria and The Omni. These designs began with a logo that I received as a jpeg image.

Gifts designed for the Omni Hotel include the acrylic tray, marble wine bottle stopper, and the purse mirror. Classic Legacy prints your image on marble. We also create unique custom medallions with logos set in silver settings. We do all enamel work by hand.

The top 5 best sellers for the Waldorf Astoria Hotel include the marble coaster, marble wine bottle stopper, cuff links, Christmas ornament, and the silver money clip. All Classic Legacy custom gifts begin with YOUR logo. Personalized custom gifts really make your hotel stand out and get noticed.
Custom Hotel Gifts Designed With Color Logo
Colorful logos show your hotel and resort style and culture. The Hotel Monteleone in New Orleans is a very classic hotel of the "French Quarter". I love their slogan, "It's been said that the French Quarter begins in the lobby of The Hotel Monteleone." The custom hotel gifts below can be found in the logo gift shop of The Hotel Monteleone.

The Hotel Del Coronado has a new "Sunkist" logo. The vibrant "Sunkist" orange color gives visitors a hint of all the fun times to be enjoyed at this luxury hotel.
Custom Hotel Gifts Designed With Pewter Medallions
Pewter medallions with YOUR hotel logo really develop a sense of class! I work with master model makers to create pewter charms and medallions that feature YOUR logo. The Davenport Hotel in Spoken,Washington had us design a custom medallion for them. Davenport Hotel custom hotel gifts include stemless wine glasses, bourbon glasses, wine bottle stoppers, and Christmas ornaments.
Custom Hotel Gifts Using Photographs
The Brown Hotel in Louisville, KY has a beautiful lobby. The photograph of this lobby is very recognizable and perfect to use to create custom gifts. Custom gifts designed exclusively for The Brown Hotel include the leather flask, marble coaster, marble wine bottle stopper, and the faux leather wine carrier.
Vintage photos are a wonderful source for custom gift designs. The marble wine bottle stoppers designed for the Hotel Del Coronado include images from the 1880's when the hotel was built. Vintage images can be printed in sepia or black/white. Custom hotel gifts begin with your photograph, logo, or art.
Custom Hotel Gifts Designed With Art Images
Art images that are owned by hotels and resorts are a great source for designs for custom hotel gifts. Sun Valley resort is a magical place during all seasons. It is especially inviting during ski season and this vintage poster art captures that atmosphere of Sun Valley. The marble coaster and marble wine bottle stopper with the vintage art of Sun Valley are gifts that guests will use again and again all the while sharing stories about their stay at Sun Valley.
Think of Classic Legacy as the go-to source for custom personalized Hotel Gifts! I would love to give you this free eBook that has over 43 proven ideas. It will help you get an idea of how to develop custom gifts for your hotel or resort.
I look forward to answering any questions that you may have. Classic Legacy Custom Hotel Gifts will help your hotel and resort stand out!