The Brown Hotel has sought out Classic Legacy gifts with the horse theme as well as custom gifts with the Brown Hotel image. We are honored to serve the Shop at The Brown! The Brown Hotel was "built in 1923. The Brown remains famous as a hot spot for celebrities and socialites. When the Derby comes this is celebrity central." Visitors to The Brown want to take home a special remembrance and they want something that is unique. Classic Legacy is the perfect vendor to provide these items. I sure appreciate Katie Bennett manager at The Shops of The Brown. These are some of the items they ordered just this month.
Wine Bottle Stoppers
Classic Legacy Wine Bottle Stoppers are a favorite because they are unique, beautiful, and different and they also will be used again and again.
Personal Gifts for Men and Women
Sometime you just want to give a personal gift that could be carried in your purse or your pocket. This is important for both men and women. Classic Legacy has designed gifts for men and women.
Jewelry with Horse Theme
Classic Legacy expandable hoop bracelets with horse racing themes are favorites at The Brown Hotel.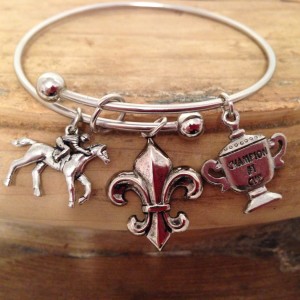 Shot Glasses
Shot Glasses with custom horse themes are very popular. This is one of our most popular shot glasses with the silver horse head designed by Classic Legacy.
We appreciate The Brown Hotel and all the Historic Hotels of America that we serve with custom personalized gifts. Thanks to you all! I have a free ebook for you! Click hereto receive it and learn the Top 3 Secrets of Hotel Gift Buyers. To create custom gifts we simply begin with your high-resolution jpg image. Email me ([email protected]) and we can begin a dialogue to create custom gifts for your organization or property.