The Davenport Hotel in Spokane is on my list of places I'd like to visit. I design custom gifts for the Davenport with the help of the Classic Legacy team. Tamara O'Connor is the retail director and I've really enjoyed working closely with her to develop a gift collection that is unique. The Classic Legacy collection features the Davenport Hotel logo. The center piece of the collection is the pewter medallion that was created exclusively for the Davenport. My favorite gift in this collection is the custom Christmas ornament. The photo below shows the ornaments as they are being made.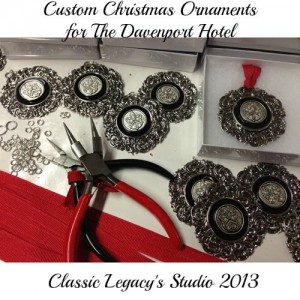 The "ingredients" of the custom Christmas ornament include, a reproduction antique metal medallion, black enamel, the custom Davenport logo medallion, jump rings, red ribbon, and a little handiwork from Classic Legacy elves!
Community Events Encourage Community at The Davenport
The spirit of sharing with the city of Spokane attracts me to The Davenport. I studied their calendar of Holiday events. You can learn a lot about the character of a hotel when you review their events and what organizations they host.
Learn More About Custom Gifts
I enjoy working with clients that give back to their community. I encourage you to visit The Davenport Hotel when you are in the Spokane area. To learn more about how our Classic Legacy creates custom medallions and custom gifts including the Christmas ornaments click on the highlighted text. We also offer to create a FREE presentation for you with your logo. Click here to make a request.
A Christmas Wish
I am sending my friends at the Davenport Hotel a special Christmas wish.