Creating Elvis Custom Jewelry and Gifts has been an honor. In the process of designing custom gifts and jewelry for Elvis Presley's Graceland I've learned so much. I did not grow up in Memphis but it has been my home for over 25 years. I've grown to appreciate Elvis and how much his influence has had on this city. I've also enjoyed learning about Elvis! Being creative is what I love to do. It has been an honor to work with the Graceland Merchandising Team to create unique exclusive jewelry and gifts. These are ten things I've learned about Elvis.
1. Elvis Custom Jewelry & Gifts Reflect Creativity
When I was designing this bracelet, I knew each was going to be one of a kind. These beads are multi-colored, semi-precious agates. The colors include pinks, blues, greens, and amber. I appreciate the creativity of Elvis. He said, "Some people tap their feet, some people snap their fingers, and some people sway back and forth. I just sorta do 'em all together, I guess." Elvis was creative!
2. Elvis Custom Jewelry & Gifts Reflect Business
"Taking Care of Business" (TCB) was one of Elvis' sayings- and he REALLY did know how to take care of business. Taking Care of Business was a mantra and a point of pride for Elvis Presley and his entourage, known as the Memphis Mafia. TCB will always be something I will remember! This bracelet features the Elvis silhouette charm, the TCB charm, and the Graceland charm. Elvis and Priscilla designed the TCB logo in 1970. Classic Legacy "Elvis" jewelry is handmade in the USA.
3. Elvis Custom Jewelry & Gifts Show Persistent Character
When I was creating this bracelet of Elvis kissing his guitar, a publicity shot from Elvis' movie Love Me Tender, I remember that Elvis kept on trying when he was initially turned down. Elvis was persistent! That is a quality I admire.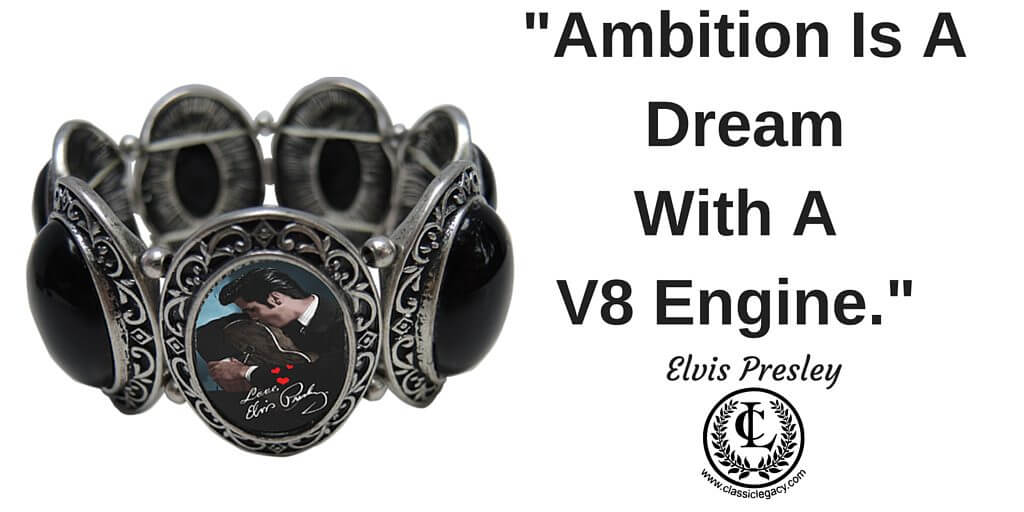 4. Elvis Custom Jewelry & Gifts Reflect Graceland & Memphis
As I have walked around Graceland and Memphis, it is evident that this is the city he loved! Graceland is full of history! It is full of memories that are fun to learn about. When you visit Memphis, Graceland is a must-see. This marble wine stopper and marble coaster are available in the Gallery Elvis and also via the ShopGraceland website.

5. Elvis Custom Jewelry & Gifts Show Loyal Friends
Loyalty is a virtue that was important to Elvis. He was a true friend to many. I love this quote, "More than anything else, I want the folks back home to think right of me." This expandable hoop bracelet with the blue crystals, Graceland charm, and Elvis in his blue sweater is a great gift to give to a friend. Click here to view it on the ShopGraceland website!

6. Elvis Starred in Western Movies
I did not know that Elvis had such a big movie career! The Graceland.com website is a treasure of so much history! Click here to learn more about his movie career. As I was designing this bracelet, I thought "you know everyone has a little 'cowboy' spirit!" I love this quote as well, "From the time I was a kid, I always knew something was going to happen to me. ….Didn't know exactly what." This bracelet features turquoise cabochons and one very special custom cabochon of Elvis on horseback. Click here to view the bracelet and order via ShopGraceland.
7. Elvis Custom Jewelry & Gifts Reflect Family Love
Elvis did love his family and especially had a close relationship with his mother. Graceland.com has much information and some wonderful photos of Elvis with his family. I found this quote and as I designed this turquoise bracelet I recalled how important family is. "Without a song, the day would never end; without a song, a main ain't got a friend; without a song, the road would never bend….without a song.' So I keep singing a song." To view this bracelet on the ShopGraceland website click here.
8. Elvis Shared Blessings
I admire Elvis for sharing blessings. At the end of a concert during his last tour, Elvis is quoted as saying "'Til we meet again, may God bless you. Adios." One of my favorite songs that Elvis recorded is "How Great Thou Art." As I designed this bracelet, I wonder who might wear it and think as Elvis did, "may God bless you." Click here to view this bracelet on the ShopGraceland website.
9. Elvis was Generous
Elvis had a heart of gold! Many Memphians have benefited from his generosity. One of the charities is Goodwill Homes, a Memphis facility that provides counseling and services for abused children and their families. To learn more about the many philanthropic efforts of the Elvis Presley Charitable Foundation, click here. I thought of Elvis's generous spirit when I designed this black onyx bracelet. It features one bead that has clear sparkly crystals and the "Elvis Profile" charm as well. Click here to view this bracelet on the ShopGraceland website.
10. Elvis Was Thankful
Of all the characteristics of Elvis, I think being thankful is the most important. It is important for me to remember to be thankful in every aspect of my life and I appreciate Elvis reminding me! One of my favorite times to visit Graceland is Christmas. When I think of special times to say thank you, Christmas is brought to mind. This stairway of poinsettias is a sight to see inside Graceland at Christmas. I designed this custom Christmas ornament exclusively for Graceland. Click here to view it on the ShopGraceland website.
I am thankful for the opportunity to design custom gifts for Graceland! It has been a wonderful journey that includes getting to know about the history of Elvis. I look forward to continuing to learn and to attending many of the special events that Graceland offers. Thank you, Thank you very much!