Personalized Wine Gifts designed to be both useful and artful that make YOUR business stand out are the perfect gift. Classic Legacy sells wholesale and retail. The collection of the vintage race horse gifts pictured above is in our open line. Classic Legacy luxury gifts for wine lovers get noticed!
Wineries, event planners, museums, hotels, and luxury retailers who are seeking unique wine gifts seek out Classic Legacy. Custom wine gifts include YOUR art, logo, or photograph. The medallions and charms incorporated in the wine gift designs are created in our studio!
Personalized Wine Gifts Include Bottle Stoppers
Classic Legacy personalized wine gifts include bottle stoppers. Our open line includes designs of wine bottle stoppers that are sure to include YOUR theme. The bottle stopper styles include our charmed wine bottle stopper, marble wine stopper, and classic wine stopper. "Open Line" refers to the fact that these gifts require no minimums and they are ready to ship! Our wine gifts are designed and handmade in the USA.
Occupation Themed Wine Bottle Stoppers
Artists, photographers, decorators, lawyers, dentists, teachers, doctors, realtors, fire-fighters, and gardeners have discovered Classic Legacy personalized wine gifts. These include wine bottle stoppers with occupation themes. Celebrate YOUR occupation with a wine event! Top your event off with a special wine bottle stopper that can be used over and over again. IF we have not we can make it for you!
Travel Themed Wine Bottle Stoppers
Whether you live in Memphis or New York, whether you like the beach or the lake, whether you travel to Paris or Ireland there are MANY wine bottle stoppers to celebrate your city, state, region, or country. The famous American Queen Steamboat travels through Memphis on the great Mississippi River. Click here to view many of our travel related wine bottle stoppers.
Celebrating at the life at the beach or the lake is one of my favorite things to do. Click to view the Pinterest collection of beach and wine gifts including the "On Beach Time" and "On Lake Time" wine bottle stoppers. The marble wine bottle stopper features natural marble that is permanently attached to the cone shape wine bottle stopper.
The NYCwebstore specializes in New York gifts as well as additional city theme gifts. New Yorkers love to celebrate special occasions like the "Ball Drop" on New Year's Eve. The New York theme wine bottle stopper is the perfect gift to use on special occasions like this. Classic Legacy personalized wine gifts include many city, state, regional, and country themes.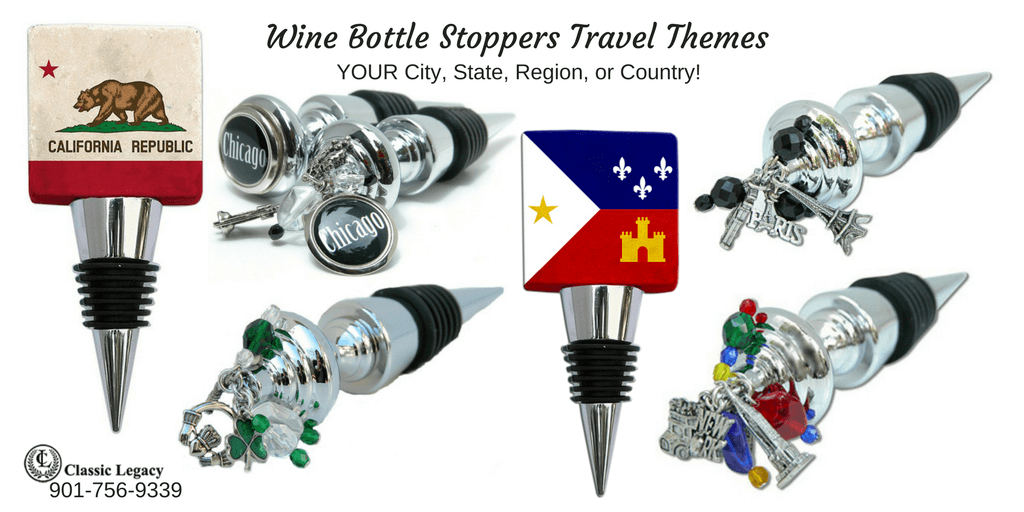 Sports Themed Wine Bottle Stoppers
Personalized wine gifts by Classic Legacy include sport themed wine bottle stoppers. Whether your sport is horse racing, polo, dressage, football, tennis, or basketball we have designed a wine bottle stopper for your favorite sport! Sport theme personalized wine gifts are the perfect gift for sport enthusiasts.
Special Event Themed Wine Bottle Stoppers
Personalized wine gifts by Classic Legacy include wine bottle stoppers with themes. Our special event themes include, birthday, anniversary, wedding, and more. The special event theme wine bottle stoppers make great presents!
Holiday Themed Wine Bottle stoppers
Personalized wine gifts by Classic Legacy include many holiday themed gifts. The Christmas wine bottle stoppers are some of my favorites. Other holiday wine bottle stopper themes include Judaic, New Year, Halloween, Valentine's Day, and more.
Luxury Wine Bottle Stoppers
If you love Swarovski crystals, fleur de lis, or initials there is a perfect wine bottle stopper to help you celebrate! Classic Legacy personalized wine gifts are designed and hand embellished in the USA. The luxury wine bottle stoppers are perfect wedding presents!
Marble Wine Bottle Stoppers
The marble personalized wine bottle stoppers include a two inch square chunk of marble. We print YOUR logo, photograph, or art on the marble wine bottle stoppers. Hotels and resorts especially like these as a gift for their guests to celebrate special events!
Personalized Wine Gifts Include Coolers, Carriers, Coasters, And Charms
Additional wine gifts include wine coolers, wine carriers, wine coasters, and wine charms. Classic Legacy creates luxury personalized wine gifts that make your business stand out!
Wine Coolers
Classic Legacy wine coolers are double wall insulated. They hold one bottle of wine and keep in cool. Each wine cooler is embellished with vintage medallions and YOUR logo or art image. The wine coolers are a gift that stands out!
Wine Carriers
Classic Legacy wine carriers are made of faux leather. Six colors are available and they include brown, black, turquoise, purple, orange, and red. The wine carriers are available with no customization or customized with YOUR art or logo.
Marble Wine Coasters
Classic Legacy marble coasters are great for hot drinks or cold drinks. They have cork on the back side and then on the top side we can print YOUR logo, art, or photograph. The images on the marble can be black/white, sepia, or full color. Each coaster is individually boxed. We also have a box that holds a set of four coasters.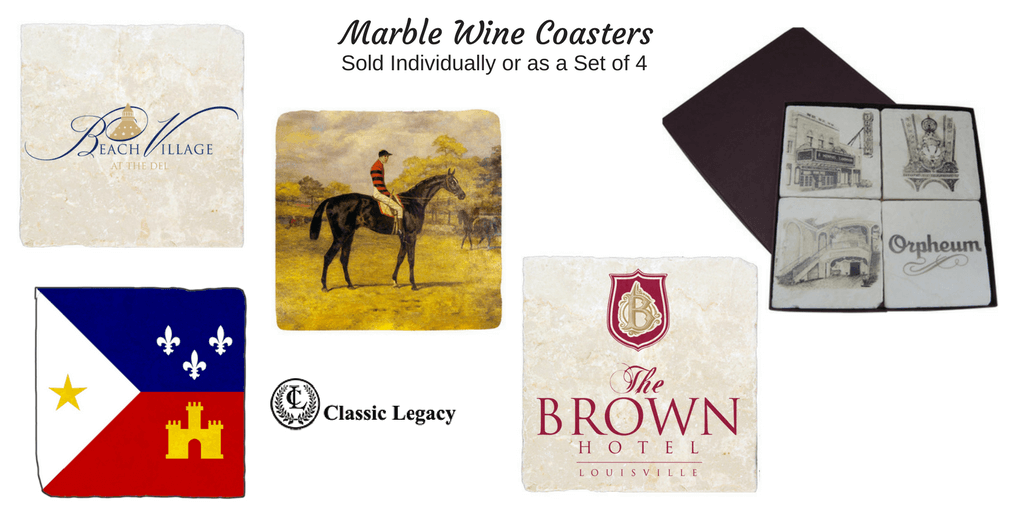 Wine Charms
Wine charms with themes are a fun gift and help make your wine glass easy to find! Classic Legacy wine charms are sold as a set of 6. Each set of wine charms is packaged in a sheer pouch that can then be used for easy storage.
Classic Legacy is the go to source for personalized wine gifts! If you would like to see how YOUR logo or art will look on a custom marble bottle stopper click here.