Our oyster shell jewelry dish is a wonderful Valentine Gift. I love blue and white, Chinoiserie design, and special surprises. This combination makes our new collection the perfect Valentine gift!
Oyster Shell Jewelry Dish Valentine Gift Pattern Design
The blue and white geometric pattern design on the oyster shell jewelry dishes makes a great gift. I use real oyster shells and then I add the gold leaf on the edges by hand painting with many small strokes. Click on any of the photos below to purchase online and learn more about our collection.
Oyster Shell Dish with Valentine Heart Design
The oyster shell dishes with the red and pink valentine hearts are just fun. These are handmade in the Classic Legacy studio and each as gold leaf on the front and back edges. Combine these dishes with a Classic Legacy bracelet or earrings for a wonderful Valentine gift. The marble wine bottle stopper with the silver hammered heart also makes a great gift paired with a bottle of wine!
Oyster Shell Jewelry Dish Valentine Gift Chinoiserie Design
The oyster shell jewelry dishes with the blue and white Chinoiserie designs are my favorites! "Chinoiserie" is a term which comes from the French word chinois, or "Chinese," and denotes that chinoiserie did not, in fact, come directly from Asia but is instead a European interpretation of Asian culture and decorative arts. The style originated in the 17th century, in tandem with Europe's flourishing trade with China and other countries of East Asia.
The oyster shell jewelry dishes are really small pieces of art. I love to place the oyster shell jewelry dishes on small easels and place between books or on my desk.
The second style of the dishes with the Chinoiserie design features a house. Click on each image to learn more. Remember each is made from a real oyster shell. The design in the center is consistent with each style but may have to be cropped differently to fit inside the shell.
Oyster Shell Jewelry Dish Valentine Gift Seigaiha Design
The "Seigaiha: or wave is a pattern of layered concentric circles creating arches, symbolic of waves or water and representing surges of good luck. I created an oyster shell jewelry dish with the "Seigaiha design".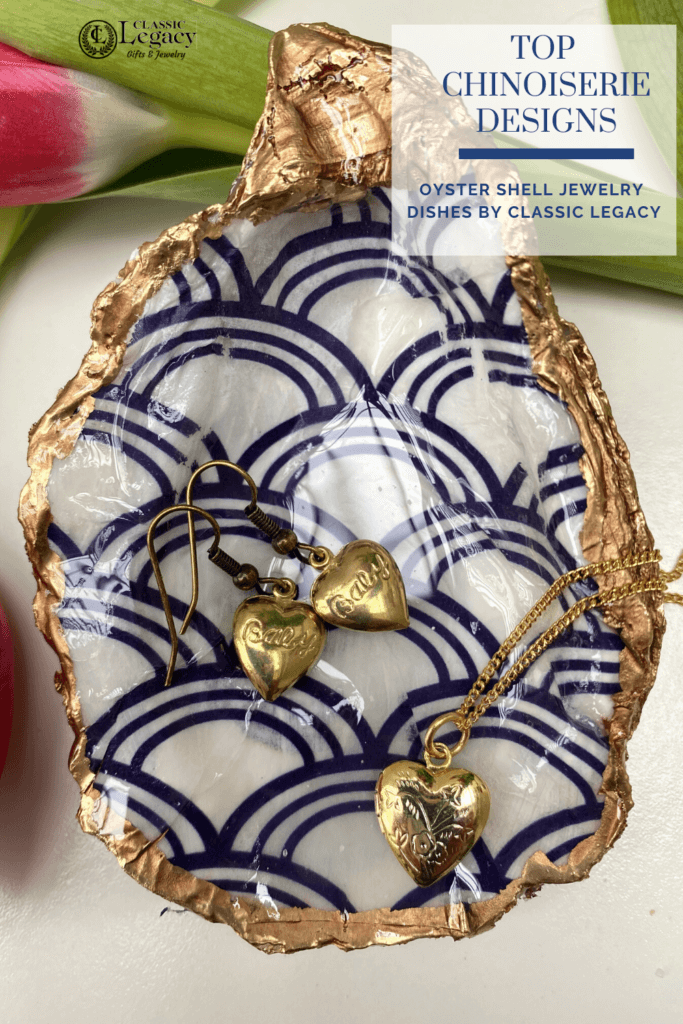 Oyster Shell Jewelry Dish Valentine Gift Plus Trinket Tray and Bottle Stopper
The oyster shell jewelry dishes also pair beautifully with the Classic Legacy trinket trays and marble wine bottle stoppers. The hammered heart design is perfect for Valentine's day.
I am so proud of the newest Classic Legacy gift collection. These oyster shell jewelry dishes are wonderful Valentine gifts as well as gifts throughout the year. To discover the entire collection click here or on the photo below.