July 4th style is a fun way to celebrate with home decor, food, and fashion. These are some of the ways I incorporate red, white, and blue in my home and you can do this as well.
July 4th Home Decor Style Oyster Shell Dishes
It is always fun to bring together my collection of blue and white china, vases, and oyster shell dishes. For the July 4th holiday I add touches of red to complete a theme that stands out for the holiday.
I call this oyster shell jewelry dish the blue and white Asian temple design. It is the perfect place to hold my American flag earrings.
The design of these blue and white oyster shell dishes is called ikat. I love the simplicity and timeless style. The American flag paining in the background was done by my friend, Debbie Viola. She is a 9/11 survivor and lives in New York.
I call the design of this oyster shell jewelry dish the blue and white Chinese house. Each one of these dishes is made with real oyster shells so each dish is unique and one of a kind.
I created this anchor style oyster shell jewelry dish especially for all my friends who love the beach and ocean. Click here to view all the different oyster shell jewelry dishes.
July 4th Style With Wine Bottle Stoppers
When my family gets together we often celebrate with wine. I design wine bottle stoppers so it is always fun to use these on special occasions. Many of my favorites are custom designs as well.
This marble bottle stopper was designed for the Roosevelt Hotel in New Orleans. It makes a conversation starter when you can share a glass of wine and discuss a trip to New Orleans! To learn more about custom bottle stoppers click here.
The American Queen Steamboat comes through Memphis on their journey up and down the Mississippi. I have put together guidelines to create custom bottle stoppers. Click here to learn more.
Even artists and art galleries create wine bottle stoppers to extend the reach of their art. I love this design and use it on special occasions. Click here to learn more about artist's custom gifts.
Two bottle stoppers that I use for the July 4th celebration are included in our open line. Click here to find out more about the USA wine bottle stoppers.
July 4th Style With Trinket Dish
I like to use trinket trays almost like mini art pieces. My favorite way to display them is by placing them on a small easel.
This custom plate was designed for the Brown Hotel in Louisville, KY. I find that when I get out some of my favorite plates and combine them with red, white, and blue it sets the atmosphere for July 4th! Click here to learn more about custom plates.
July 4th Style with Food
Food brings people together. I've created some of my favorite treats that tell a red, white, and blue story for July 4th.
I love to pull together great fruits and treats that are red, white, and blue to celebrate July 4th. I bought the mini cupcakes, blueberries, and strawberries from Kroger.
The blueberry streusel cake is from the cookbook ,"Trim and Terrific" ,by Holly Clegg. I did make the cake and it is an easy recipe! Click here for the recipe.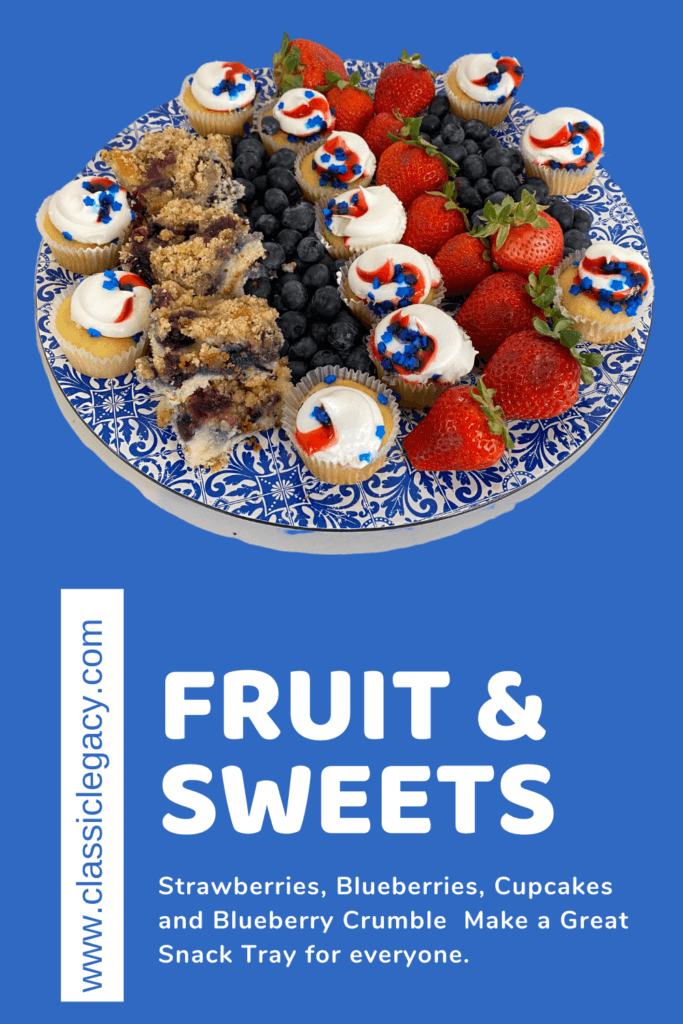 The blue and white plate is actually a charger that I purchased from Target in early January of 2020. I know I will use these often.
My grandchildren LOVE fruit. I call these summer fruit kabobs. You just add strawberries, banana bits, and blueberries to a skewer. Everyone has fun eating fruit kabobs!
July 4th Style with Jewelry
Creating jewelry with themes is one of the things I enjoy. Jewelry for July 4th includes flag earrings and an expandable hoop bracelet.
Be sure to try some of my July 4th tips and I'd love to see your photos of your celebration!