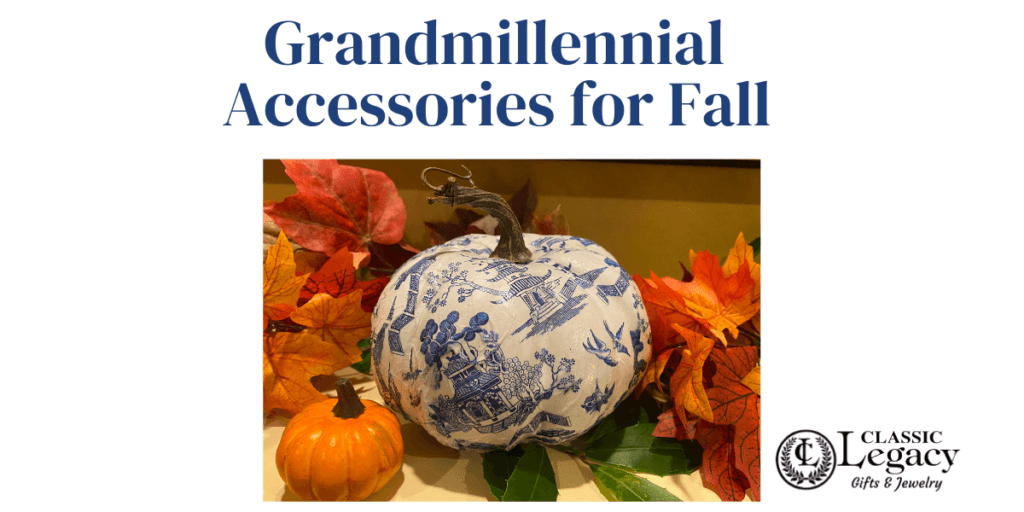 I first discovered the term "Grandmillennial" in September of 2019 when Emma Bazilian wrote an article for House Beautiful. Grandmillennials are in their 20's and 30's. They are traditionalists that have a love for the past. Grandmillennials love good design and want to add a fresh touch. Blue and white Chinoiserie accessories and accents are a great way to achieve the look! These Fall accessories are sure to please.
Chinoiserie Fall Pumpkins for Grandmillennial Style
I place blue and white Chinoiserie pumpkins on my fireplace mantel among fall leaves and little orange pumpkins. Mantels are perfect to decorate with each season.
Within the mix of Fall accents on my mantel I also like to add some oyster shell art. I place the oyster shells on small art easels next to my collection of Chinoiserie ginger jars and vases.
Dining Room Accents for Grandmillennials
I love to entertain around my dining room table. Adding Fall accents with blue and white Chinoiserie touches is an easy way to add a fresh look to classic design. The blue ikat oyster shell napkin ring is classic and also useful!
Salt dishes were used in the past and are coming back! It is a great way to individualize the salt option. The oyster shell used as a salt dish can also be a topic of conversation.
Vignettes with Grandmillennial Style
Create a vignette or a little nook in your living room with blue and white Chinoiserie accents that create a grandmillennial style. I like to combine Chinoiserie oyster shell art with my blue and white vases, fall leaves, little orange pumpkins, and a bundle of wheat.
Chinoiserie Style For Your Home Bar
My home bar is in a small area between my kitchen and dining room. It resembles a "butler's pantry". I like to create a vignette in this area for different seasons. The orange wine carrier, the fleur de lis marble wine stopper, the stemless wine glass with silver medallion, and the blue and white ikat oyster shell dish are all part of this vignette.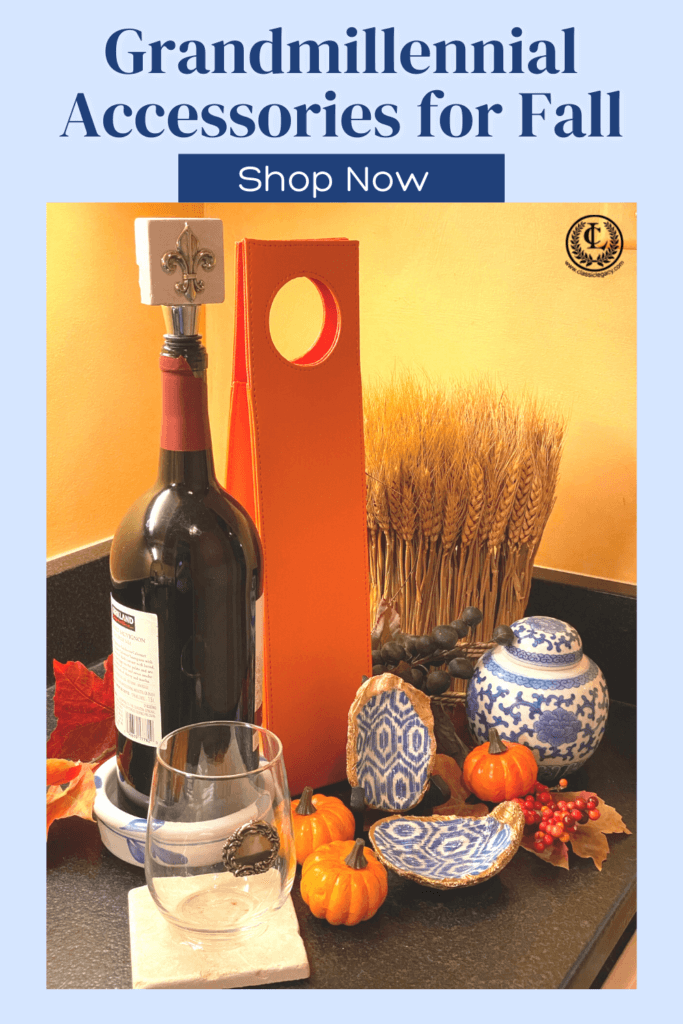 If you love blue and white, Chinoiserie, cloth napkins, needlepoint, and all things traditional you just may be a "Grandmillennial" ! An easy way to celebrate this look is with accents and accessories. Click here to view Grandmillennial and Chinoiserie accessories from the Classic Legacy collection.