Dental Gifts help dental professionals celebrate their unique events and brands. We typically serve luxury resorts, museums, retailers, and wineries. A few years ago several dental groups discovered Classic Legacy as an excellent source for custom gifts. Click here to receive your free eBook of great ideas for dentist theme gifts. It has now been my honor to serve dentists, dental product providers, and dental specialists. Benefits include:
Dental Gifts Create Brand Recognition
Creating Classic Legacy Custom Gifts begins with YOUR logo. Our team creates custom medallions and charms using your logo. We also have the ability to print on marble and metal. Classic Legacy is known for our wine accessories, desk accessories, and personal accessories. When custom gifts are created with YOUR dental logo it helps makes your brand stand out and become recognized. To view guidelines to create custom gifts click here.
Dental Gifts Bring Awareness to Special Events
Dental gifts do bring awareness to special events. Root Canal Awareness week is held each year during the second week of May. This marble wine bottle stopper and marble coaster help bring awareness to this special event.
Dental Gifts Are Nice Thank-you Gifts for Referrals
Dentists rely on referrals. It is always nice to show appreciation by giving a referral gift. Classic Legacy personalized gifts always begin with YOUR logo, photo, or art. We then take that digital image that can be emailed to use and great special medallions that embellish our gifts.
Dental Gifts Showcase Creative Dental Professionals
I once heard that dentists are (D for doctors) (E for engineers) and (ISTS for artists). Custom dental gifts showcase the creativity of dentists. All Classic Legacy custom gifts begin with YOUR logo. We then create custom charms and medallions to embellish the gifts and make them unique. The custom wine charms and custom charmed wine bottle stopper below are examples of creative gifts that will showcase your dental practice. Gifts for dentists make your brand and practice stand out!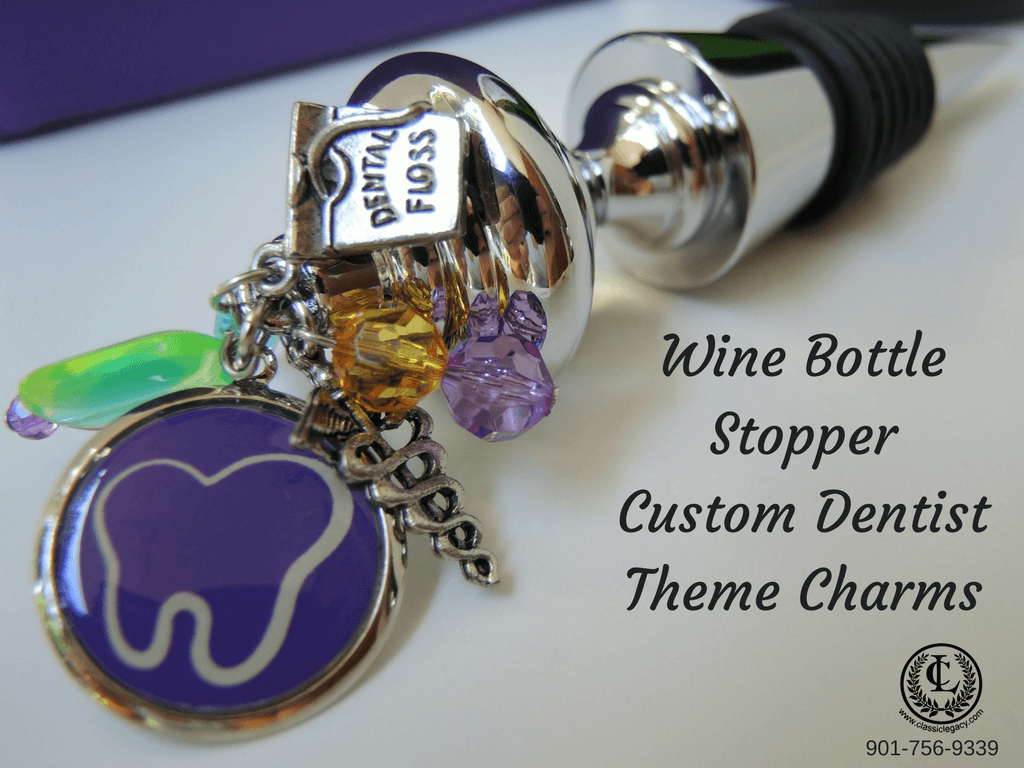 Dental Gifts Build Teams
Don't forget about your own team! Classic Legacy creates many gifts that are great to give as thank you gifts to team members and even as graduation gifts to future dentists. We also have created a custom acrylic tumbler that can be used as a thank you gift for new patients. It is full of samples of toothpaste, toothbrushes, mouth wash, and floss. Custom gifts with themes are a perfect way to build teams!
Dental Gifts designed by Classic Legacy are all designed and made in the USA. Custom gifts help build brand recognition, bring awareness to special events, make great referral gifts, showcase creativity, and help build teams. Remember a smile is the prettiest thing you will ever wear! I'm so glad there are dental professionals to help keep smiles in place! "A smile is the prettiest thing you will ever wear." If you have any questions about custom gifts for dental professionals please email me at [email protected] or call 901-756-9339.
Be sure to click here or on the photo below to receive a FREE eBook full of gift ideas for dentists and dental professionals.