I create bourbon barrel wooden art for horse lovers. Each piece is 3″ x 3″. I reclaim wood from bourbon barrels and create the base for these pieces of art. Each is hand gilded with gold leaf on the front and the back. My vintage equestrian medallions and carved jade are then added to create gifts for horse lovers. Many are one of a kind and the collection is ever-evolving.
Bourbon Barrel Wooden Art for Racehorse Fans
These are my favorite designs for racehorse fans. I have found that racehorse fans love to have a memento of their time at The Derby or their favorite race. I have collected silver and gold medallions for many years and love how these can be used on bourbon barrel wood. Click here or on the images below to learn more about each of these pieces of wooden art.
Horse Jumper Wooden Bourbon Barrel Art
Jumpers are so graceful. It is one of my favorite equestrian sports to watch. I wanted to capture that beauty in this bourbon barrel wooden art piece. I used a piece of dark carved jade and the silver equestrian jumper medallion. Click here to learn more or on the photo below.
Horse and Hound Wooden Art
Horse and hound hunt scenes fascinate me. I've never seen such in person but I would love to see this event. I've found two lovely silver medallions that incorporate the historic horse and hound event. The bourbon barrel wood is the perfect palate for this art for horse lovers. Click here or on each photo below to learn more about this art.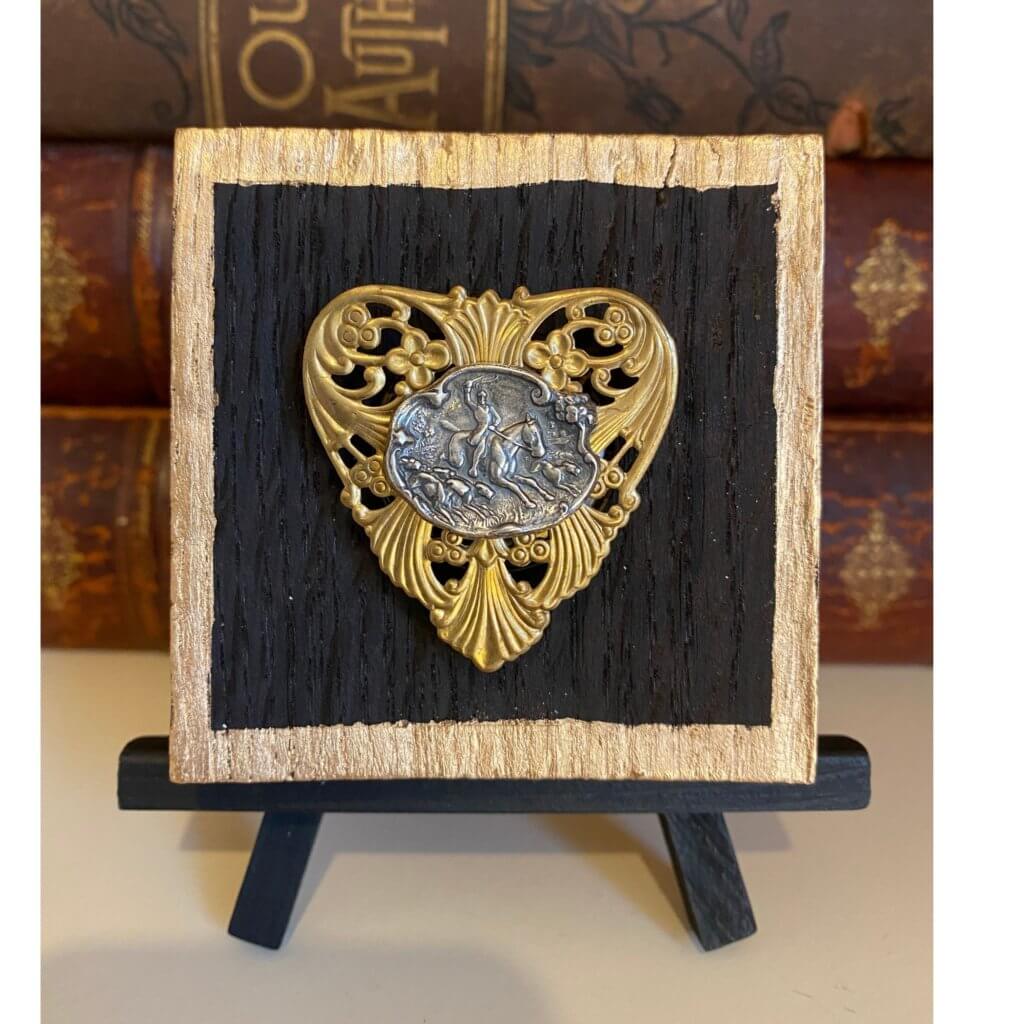 Bourbon Barrel Wooden Art with YOUR Photo or Logo
Custom gifts have been my specialty for many years. I've learned how to create medallions with your art or logo. Below are two examples of how I have used the art of "Warmbloods and Wine" to create custom bourbon barrel art. If you would like a FREE virtual image to see how your art would look just email or phone and I'll be glad to create a mock-up and let you see how it will look. Click here for more information about custom design work.
Gift Box for Bourbon Barrel Equestrian Wooden Art
I think beautiful handcrafted gifts should come in beautiful boxes. After sourcing many boxes I came upon this lovely shiny box that is just perfect for the bourbon barrel equestrian wooden art.
When you are searching for that perfect gift for a horse lover remember the bourbon barrel wooden art that I create. I look forward to creating some art for YOU!